Maker event editor window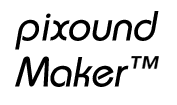 The Only Tool
for Making pixound Interactive Web
and Multimedia
Creations
Pixound Technology Partners is happy to announce the Pixound Maker, our production software. This powerful tool suite is designed to provide artists, musicians and interactive developers with a new medium of expression.
Visit the Applet Gallery to download sample Pixound applets. These do not require a browser for use.
Visit the Plug-in Gallery to experience Pixound on line. These Pixound enabled web pages are here for you to play after you have downloaded and installed the Pixound plug-in.