Hear Motion as Music!
Pixound technology can be used to track the motion of atheletes and dancers of every sort. All you need is a video camera, a laptop and a sound system to begin working with SportSonix. Setup is simple! We don't just create sounds with motion—we create music!

Because multiple pointers (stylae) can be used at once, you can map any zone, field or court to have different music or sounds at different locations. Pixound can be used to "musify" anything from a golf swing to a basketball game. You can even combine multiple SportSonix installations to create greater coverage and more variation.

Much more than a musical diversion, this technology can be used to test atheletes for accuracy or challenge them to "keep the music going" or simply enhance the sports experience by adding a layer of musical "rewards" to certain actions. The possibilites are innumerable. We have found that aerobic workouts while using pixound tend to last longer because rather than working out to a preset beat or song, when you are making the music as you go, you want to keep it going. And it's far less tedious because it's never quite the same. This is a fun form of biofeedback!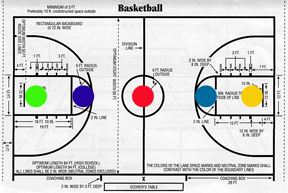 Something a small as a single foot can be "pixified"
or as large as a basketball court.
Midi Support
By routing the output of pixound to external Midi devices, you can open up a whole world of samples and sounds to make the experience that much richer.
Pricing
Techné Media currently licenses SportSonix installations on a consultation basis. Please contact Techné Media at licensing [at] technemedia.com to find out more.
Features:
Pixound RGB Color-Music Interpreter with manual and autoplay modes
Added drum and bass track support for rhythmic enhancement
Base music on known chord progressions
Over 60 Musical Scales
Up to 8 simultaneous 3-voice pointers on screen at once
Built-in Harmonizer
Completely customizable and configurable
Live performance mode takes the old-fashioned sports organ to the next level.
Requirements
Mac OS X 10.3 or higher. Midi interface if using the Midi features.